General Staffing
ITCONS addresses a vast range of requirements with customised contractual or temporary staffing solutions. We have a significant number of associates deployed at multiple client locations across various cities and towns; we cater to a diverse spectrum of industries.
Our record of hiring over 500 resources in less than 30 days for a client is a testament to our capabilities and expertise in the field. Our customised technology-led solutions and digitised operations help clients experience enhanced quality and efficiency while reducing costs, enabling them to focus on their core business.
ITCONS boasts 95% client retention across all industry verticals, including NBFC, BFSI, IT/ITES, Retail, Telecom, E-commerce, FMCG, FMCD, Logistics, and many other areas! We achieved this by offering clients one of the most comprehensive staffing solutions in the industry, making us one of the most reputed staffing companies.
Some of our services include statute and compliance, grievance, and payroll management.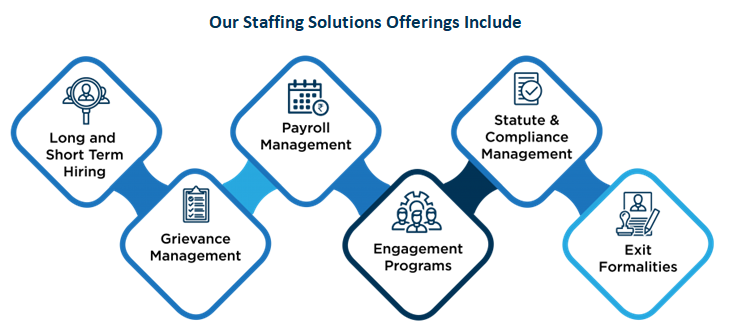 Advantages to work with ITCONS:
ITCONS has been one of the well-known staffing companies in India, and we have been around for over 15 years now
You can be at peace concentrate on business activities that are critical and important for your business.
Staffing and recruitment are challenging and cumbersome tasks to an organisation. Outsourcing your staffing needs to a contract staffing agency reduces your tension and the burden of finding suitable human resources.
You can rely on ITCONS for a constant flow of talent required for your organization or business.
Irrespective of your location in India, ITCONS can provide manpower services by identifying, training and placing local resources and cater to your organisation.
All staffing related tasks like recruitment & selection, salaries, payments, exits are all handled by us.
You can add, increase or reduce your human resources numbers at any time without having to worry about formalities.
Our services take over the risks typically associated with temp/ contract staffing, which means there is no risk for you.
ITCONS can provide unlimited manpower at an affordable cost.
ITCONS's Integrated offering bundled with recruitment with national team results into Greater accountability and Uniform client update.
Our constantly updated HRMS system ensures accurate and latest data at super speeds. You always have access to different types of reports in a snap.
Easily understandable processes and simple SLAs that make it easy for you to come onboard.
Seasoned recruitment team that can quickly source, evaluate, select, and form a team for you
Large and specialized staffing database for FMCG, FMCD, Retail, Telecom and Finance. We have your staff waiting for you.
An error-free, highly secured, and flexible payroll management system that pays employees on time.
Powerful and proven computerized system that includes self-service portals, query management system, help desks, and MIS for your management.
Complete compliance management that takes care of minimum wages, PF, ESIC, and labour laws make employees protected 100% all the time.
Complete and proven associate management that keeps our staff who work for you happy.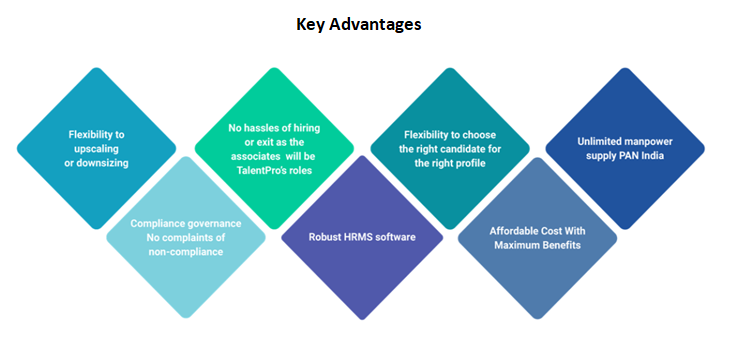 At ITCONS, we have been delivering exceptional staffing, compliance, and HR services to 100s of companies in India for the last 15 years. Our staffing and compliance experts cover the whole of India, so we are ideally suited for your staffing and compliance needs. We provide our clients with cutting-edge computerized systems that look at current MIS and help them stay compliant.