Re-badging
Re-badging: is the acquisition/legal transfer of ownership of the relevant staffing resources, professional services personnel, and/or software developers for example, from the originating, or incumbent company over to the re-badging entity
Handle capacity and labour uncertainty
Smooth transition while ensuring business continuity
Avoid expensive severance packages and payouts
Retain critical talent and proven personnel
Win smart outsourcing deals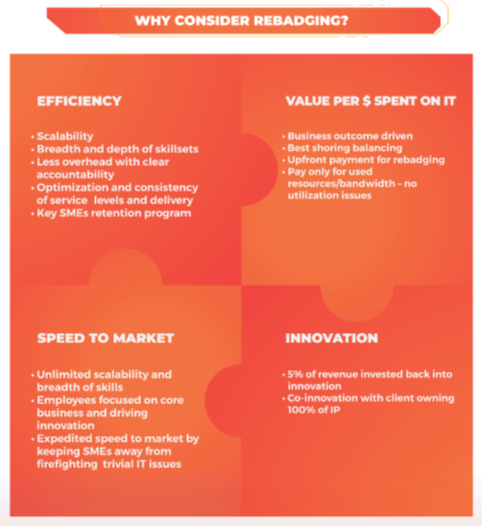 Employees Are At The Heart Of The Deal - We Ensure Adequate Care For Workplace Satisfaction: ITCONS offers a transformational re-badging strategy for cost-optimized, scalable, and efficient IT staffing solutions. Bring continuous support to your clients with smooth transitioning of your employees from your organization to the new one. Bring retention of current employees' base while ensuring customer satisfaction and business continuity.
Our services are flexible and dependable so we can fit into any business model or process for hiring employees, including outsourcing, off shoring, in-sourcing, or others.
Our Re-badging types include:
Shared services buyouts
Joint ventures
Captive support
Third-party outsourcing models
As the third-party service provider, we have existing technology and application interfaces; it ensures ease of transition and eliminates the risk of performance degradation during the transition, leveraging its industry-leading best practices. The client is enabled to focus on its core competencies, enjoy improved KPI performance, and reduce overall costs mainly by switching expenses from capital expense (CapEx) to operating expenses (OpEx).
Other benefits of re-badging include:
Eliminate risk of performance degradation during transition to an outsourced provider
Retain expertise and ensure continuity of "tribal knowledge"
Ensure continued alignment with company culture
Retain jobs in-region, mitigating social impact of shutting down a facility
Ensure ease of transition due to retention of exiting technology and application interfaces
Financial flexibility using OpEx versus CapEx
Speed to proficiency through reduced training hours and use of the same staff
Job Search
Candidates can perform the job search how they perform on any job board, they can apply the job and can track the status online; like with whom the job is pending, shortlisted, selected or rejected.
Applicant Zone
The candidate can create his/her login id, just by filling his email id & password; a check is performed for duplicate email id; an authentication mail will be sent to the candidate. On authenticating the account, user name and password mail is sent to candidate.
To complete the personal and professional information, the candidate simply needs to browse the resume in any format like .doc, .docx, .pdf, .rtf, .html, .txt format; Resume parsing API will interact with web-server and parsed contents are returned back to the page and populated in respective fields. Candidate can then review the details and submit the profile.
Candidate Management
Upon submission, the profile will be saved in ATS database; which can be edited or modified by candidate and recruiter both, at any time with their respective login credentials.